Not many world travelers know how rich Cuban nature is, and of the many natural parks and beautiful landscapes that exist, with a rich biodiversity not often found in the Caribbean.
When travelers think of Cuba, they envision the colorful facades of Old Havana, sandy beaches, tobacco, Cuban rum and music. Around 22% of Cuba's land and water is protected through a system of National and Marine Protected Areas. There are some 211 protected areas of which 12 are designated as National Parks. Cuba is the largest island in the Caribbean, one of the most protected places in Latin America in terms of biodiversity.
Cuba is rich in endemic species, some so rare you can only see them in one specific park or reserve. From waterfalls amidst the lushness of mountains, to pristine waters and preserved coral reefs beyond coastal mangroves, Cuba has it all.
One of them, Jardines de la Reina, is the largest, best-preserved, least studied, coral reef system in the insular Caribbean. There are many other very healthy reef systems in Cuba. Indeed due to economic constraints, Cuba uses very little agricultural pesticides or fertilizers, consequently minimizing any harmful runoff into the sea.
Guanahacabibes: A haven for diving
At Cuba´s westernmost point, Pinar del Rio, lies Parque Nacional Guanahacabibes. The area has one bigger rural settlement in La Bajada and smaller villages sparsely distributed. Arriving to the peninsula is entering a forgotten place, truly an ideal site for biking, hiking, diving and communing with nature.
Forests and mangroves support 172 bird species, autochthonous mammals like the jutias, reptiles like the Cuban iguana and even deer. However, the local waters hide the greatest surprise of all: according to experts they hold the biggest fish community of Cuba. Maria La Gorda, nearby, a great place for both, experienced and beginner divers to start from.
Soroa Orchid Garden and Las Terrazas eco-community
Before moving on to Central and Eastern Cuba, brief mention must be made of Soroa Orchid Garden. The garden hosts an impressive array of ferns, trees, and orchids. Pop in on your way to Last Terrazas eco-community, in the Sierra del Rosario Biosphere Reserve, 45 minutes from Havana. Opportunities for trekking, hiking and bird watching abound in this area, as well as short visit to a local waterfall.
Cienaga de Zapata National Park
The Ciénaga de Zapata National Park is located on the Península de Zapata in south-central Cuba, two hours from Havana. This national park comprehends important wetlands, and certainly home to some of the best birding and fishing in Cuba.
For many, the main attraction is bird watching. This is the home to 28 birds that can only be found in Cuba. The Cuban pigmy owl, besides the tiny bee hummingbird (smallest bird in the world), are best found at Refugio de Fauna Bermejas. To the west, at Peninsula de Zapata, vast numbers of pink flamingoes, pelicans and other waterfowl can be seen.
If snorkeling and diving is what tickles your fancy, Cienaga de Zapata stretches south to an excellent coral reef, with a number of great spots. Punta Perdiz and Playa El Tanque are big favorites. For further information on Cuban coral reefs and conservation projects, follow this link (Nature.org).
The area is so sparsely populated and has been off-limits to large-scale fishing operations, it's a wonderful place to fish. The best fishing is available on the Río Hatiguanico and also in the Laguna de las Salinas. Lots of Tarpon in the river, with most weighing in between 5 and 25 pounds. In the flats, you can wade through shallow water and hook bonefish. The best bone fishing season is from fall through June, whereas the tarpon are best to catch from March through June.
Cienaga de Zapata is also known as Bay of Pigs; you can do a brief tour of the small museum at Playa Giron. It covers the events during the failed Bay of Pigs invasion and Fidel Castro´s role in it. There is also a crocodile preservation area nearby.
Punta Frances National Park
The Isle of Youth, or Isla de la Juventud, is the largest Cuban offshore island. Additionally, this park's coast has some of the most impressive diving spots of the Caribbean, with large sections of intact reef. While snorkeling here you're likely to see schools of tarpon, snooks, barracuda, and angelfish. Advanced divers should explore the tunnel of Cueva Azul, which shelters especially large specimens of tarpon.
Punta Francés' ecosystem supports numerous endangered animals. When you go for a diving or snorkeling trip, you might get to see hawksbill sea turtles. There are also manatees in these reserve waters, but visitors can´t swim with those animals. This park also serves as a habitat for the American crocodile. Make time in your itinerary to hike inland, where you'll will spot some of the island's lizards and butterflies.
Jardines de la Reina
Jardines de la Reina is an archipelago of 250 islands at the southern coast of Camagüey and Ciego de Ávila. There is incredible marine diversity and the coasts provide nesting sites to 4 of the 7 sea turtles species registered. Green sea turtle, hawksbill turtle, loggerhead turtle and leatherback turtle abound.In conclusion, different options for diving and snorkeling turns Jardines de la Reina into a paradise for adventurers.
Caguanes National Park
Head to the north coast to visit the home to 79 caves and over 200 species of birds. Includes over 10 small islands, and the coastal environment comprehends mangrove swamps. This one is a favorite for birdwatchers.
Pico Turquino National Park
As one moves to the far east of Cuba or El Oriente, the country becomes wilder and more mountainous. Cuba's highest peak is located in Pico Turquino National Park to the west of Cuba's second-largest city, Santiago. The park is named for Pico Turquino, the highest point in Cuba at 1,975 m (6,480 ft.) in elevation. Sierra Maestra mountain range stretches from east to west dropping precipitously into the Caribbean Sea. These are the mountains where Fidel Castro hid in late 1958 just before the "Triumph of the Revolution." His headquarters have been preserved within the Park boundaries as a historic site you can visit on foot. A difficult but rewarding hike crosses the mountains covered in pine forests from north to south, summiting Pico Turquino on route. To learn more about the rebellion stories of Fidel and Che and hiking in Pico Turquino follow this link: Rove.me
Desembarco del Granma National Park
Granma Province is seat of the Desembarco del Granma National Park. Named after the yacht in which Castro, Ernesto Guevara and others traveled from Mexico to Cuba to overthrow Batista's dictatorship. The park is National Monument and World Heritage since 1999. It is the best conserved system of marine terraces (emerged and submerged) over calcareous rocks in the world.
The Park is host to the oldest plants in Cuba, more than 500 hundred years old: Aguacate Cimarrón (Dendrocereus nudiflorus) and the Giant Cactus. Walking the different trails of the reserve, you will find many plants used traditionally as therapeutic resource.
Duaba Natural Park
Duaba Natural Park is located just outside the town of Baracoa. This beautiful park is best known for El Yunque. El Yunque is a flat-topped mountain looming over the area at 1886 feet (575 meters). This park is home to forests, hills and rivers, and is an absolutely beautiful place to explore the outdoors.
El Guayabo Waterfall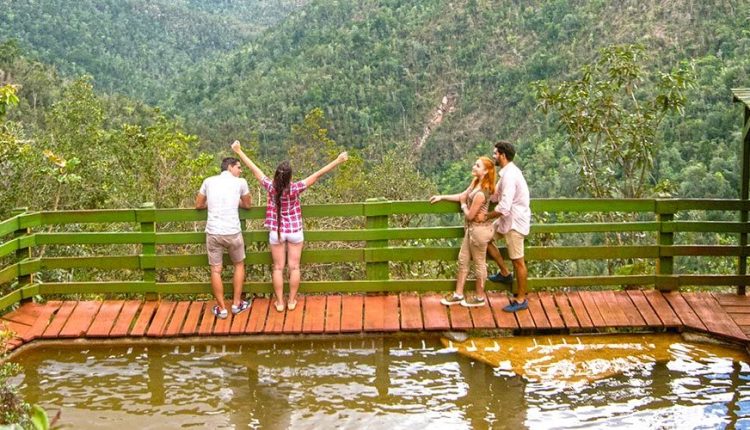 The beautiful twin waterfalls at El Guayabo crash through the forests near Pinares de Mayarí. This is an excellent place to spend an hour or two exploring the outdoors in eastern Cuba. At 390 feet (120 m) and 460 feet (140 m) tall, these waterfalls are some of the highest in Cuba. They are located about 10 miles (17 km) north of Pinares de Mayarí, and are undoubtedly the best attraction around. The falls are always flowing, although the amount of water varies by season. Trails lined with flowers, coffee plants, and pineapples wind through the reserve and lead to the waterfalls.
Alejandro de Humboldt National Park
Named after geographer, astronomer and naturalist Alejandro de Humboldt, this Park includes 711.28 km2 of terrestrial and marine areas. It´s an UNESCO World Heritage since 2001 as one of the most important sites for the conservation of endemic flora. It extends through Holguín and Guantánamo. Rivers stream from the hills nourishing the fresh water fauna and 70% of the 1300 plant species growing are endemic. Its complex geology gave rise to a diversity of ecosystems and species unmatched in the insular Caribbean. It is one the most biologically diverse tropical island sites on Earth.
It ranges from sea levels to peaks of 4000 feet at El Toledo Peak; nearly nine miles are marine areas. Forests, lagoons, mangroves, mountains can be found. There are more than 1000 flowering plant species, 145 types of ferns, and 20 species of amphibian.
Safe Cuba exploring in post COVID19 Cuba
Exploring nature and enjoying the wilderness it is now more appealing than in our post-COVID19 world.
Cuba´s active screening, clinical management and safety protocols have been exemplary. Health, hygiene and social distancing protocols have been in place. Hotels and all staff working in the travel industry are being trained in the industry standards for this new post-COVID19.
However, items like hand sanitizer or disinfectant wipes were never available in Cuban stores even before the COVID19 pandemic. Do not forget to bring your own supply. The common form of hand sanitizer in every venue offering public services is an aggressive chlorine water-based solution called hipoclorito.
Cuba Private Travel offers an array of choices to explore Cuba´s nationals parks, combined with great accommodations.
In summary, Cuba is a fascinating travel destination for nature lovers. If you are a lover of bird watching, hiking, trekking, or just simply enjoying nature at its best, Cuba has it. We can arrange the perfect holiday for you. For more information on Cuba´s biosphere protected sites, follow this link (Questia).