Discovering central Cuba's Escambray region makes for one the most exhilarating experiences you can have on the island in terms of natural discoveries and rural adventures. The chain of stunning mountains that make up this hilly landscape is full of rewarding surprises. From meandering trails to coffee plantations, several waterfalls and exciting hiking and trekking opportunities. That goes without mentioning the charm of the Cuban cowboys in this part of the country. They´re always keen to help and offer you a personal insight into their way of life.
---
The Escambray mountain range in central Cuba is one of the most spectacular places in the Caribbean. Perfect for nature lovers and active holidaymakers in search of unadulterated adventures. Only comparable to the Sierra Maestra mountain range in Santiago de Cuba, on the island's eastern end. Its incredible topography, rich biodiversity and winding trails full of pleasant surprises and incredible views make for an amazing trip. A place where you never get to tire of so much greenery and mountains. The city of Trinidad is just minutes away with its colonial allure and pretty 16th century urban layout.
Want to know more about how to truly discover the Escambray region and make the most of its trekking opportunities? Read on for insider insights on what to see, where to go, what to do and where to stay.
Trails worth trekking for – discovering Escambray
The dreamlike beauty of Tope de Collantes
The Escambray mountain range (Cuba's second largest) is a privileged part of Cuba. Home to protected national parks and national monuments covering three provinces (Sancti Spiritus, Cienfuegos and Villa Clara) for around 200 km2. The biggest and most famous of these is Topes de Collantes, a naturally breathtaking reserve. With several national parks within it, comprising vast expanses of lush forested area and vibrant wildlife. Impressed? That's only the beginning.
Colourful wild roses, daisies, ferns, fragrant plants and "majaguas", cedar trees, mahogany trees, teak trees and pines are some of the natural highlights. Those will catch your eye as you trek Escambray's many trails, all beautifully set against a dramatic backdrop of mountains. Also with meandering rivers, hidden caves, glassy lakes and cascading waters.
Spoilt for waterfalls
There are two main waterfalls in Topes de Collantes, the most famous of which is Salto de Caburní. This 62-metres-tall, jaw-dropping waterfall is actually made up of a series of waterfalls spilling out from a combination of rocky outcrops and grassy, moss-covered hills. Making for the most awe-inspiring mindfulness moments, you'll photograph everything in your mind *. Bathing in its cool crystalline waters is a must, especially after hiking the trail that leads to it (this is the most popular trek in Escambray and it covers 5 km from there and back).
Another famous waterfall is the Vega Grande and what makes this glittering cascade so special is the way water trickles down through undulating rock. Creviches surrounded by dense vegetation and falling into a verdant round pool that feels intimate and completely hidden away from the world. Semingly leading to a secret hidden cave behind the trickling waters. The trek here is a little more arduous and involves climbing some steep terrain at 45 degrees angle. But the majestic ending makes it all worth it. When you reach your destination and admire Cuba's second tallest waterfall you'll feel instantly refreshed. Taking a dip in the cooling waters will instantly soothe your muscles.
All about coffee
The Escambray region, as one of Cuba's main coffee producers has quite a few coffee plantations. Some of which you'll pass along the way or glimpse in the distance, depending on the trails you choose. One thing is for sure, there'll be plenty of opportunity for sampling the delicious local coffee organically grown here.
More than a taste
If you're interested in the world of coffee beyond tasting local flavours, the Casa del Museo del Café is a great place to head to for an immersion in the story of Cuban coffee. And the steps involved in bringing to the table, from bean to cup. If you're left with thirst for more, the museum offers tours around coffee plantations. With many growing different varieties of coffee (all of which, you'll of course be able to sample at the museum).
Escambray Coffee plantations and beyond
Beyond coffee plantations, in the Escambray's plains you will also find tobacco, sugar crops and banana plantations. While the most popular tours are to coffee plantations, nothing stops you from getting closer to other plantations .So you will be able to soak up their varying beauty in all their glory.
Winding rivers, submerged caves
With the Escambray mountains enveloping such a vast expanse. You can expect to see many rivers bordering or cutting through some of the many trails on offer. One of these is submerged in a subterranean cave and the trek to it is as scenic as the final destination. There are more than one trail leading to this submerged river, called La Batata and sitting at the foot of a green valley. Some of the trails cover more than 3 km but there are treks for all levels. With the easiest starting at the southwestern corner of Hacienda Codina.
A lake, an infernal cave and a park named after a waterfall
On the Cienfuegos and Villa Clara parts of the Sierra del Escambray (the Topes de Collantes nature reserve belongs to Sancti Spiritus). There are three more wonders worth trekking for.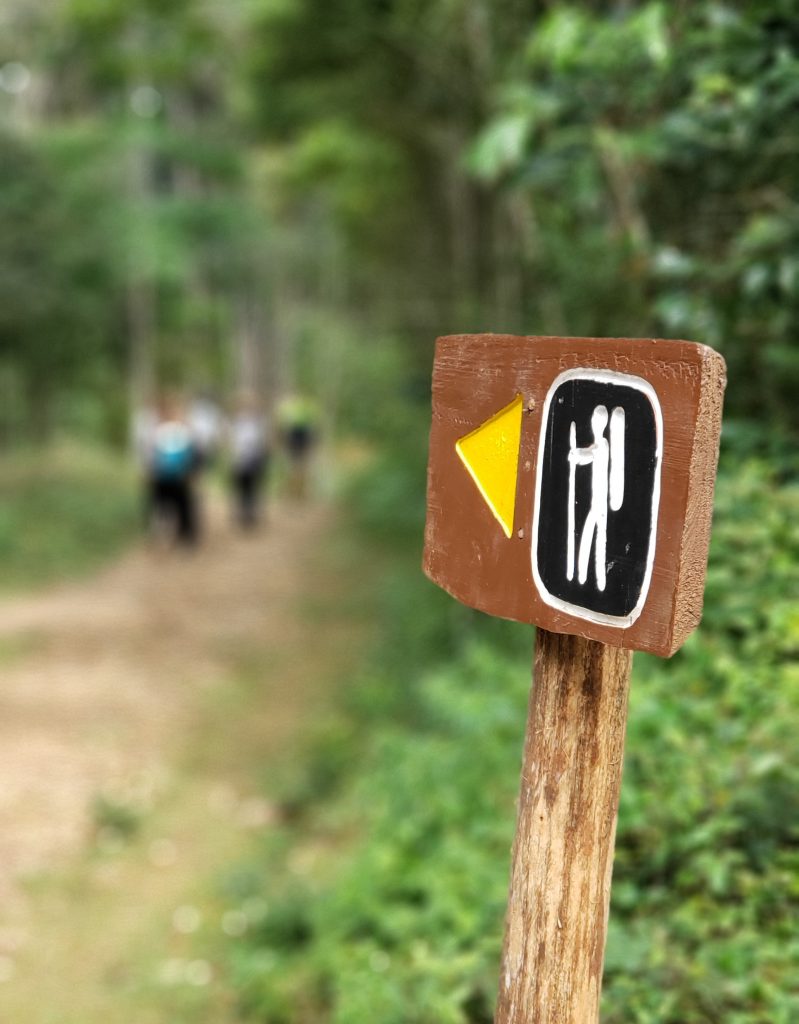 Lake Hanabanilla
Escambray has one enchanting lake to wow those who make the journey here from Villa Clara. It sits in the municipality of Manicaragua, in the small village of Hanabanilla, which also names the lake on it. Surrounded by mountains and greenery, the lake itself it's also the largest hydroelectric power station in the country. This embankment is fed by numerous rivers and brooks. And boat trips are offered as well as fishing trips. Depending on the destination you choose for your boat trip you may follow up with a couple of trails. One of which takes you to El Nicho waterfall while the other three lead to lesser-known off-the-beaten path treks.
Martin's Inferno
Legend has it that in colonial times, a slave named Martin escaped from his owners' hacienda in Trinidad. And upon stumbling on a beautiful cave he tried to make it his new home. Much to his misfortune, he didn't know his new abode's interiors that well and fell off its precipice, at the bottom of which lies one of the world's tallest stalagmites, almost 70 metres high!
The cave was named after Martin's demise (although nothing backs up his story as no human remains were ever found in the cave). And declared a national monument in 1990. It's surrounded by gorgeous forested hills and inside, beyond the staggering stalagmite, you'll also spot endemic flowers and small streams.
Trekking to El Nicho
The protected enclave of El Nicho, on Cienfuegos' side of the Escambray mountain range, comprises a series of small waterfalls, streams and pools. Where one can take a dip or simply admire the beauty of the crystalline turquoise waters against the greenery that surrounds it all. This is one of the easiest trails and trekking journeys of all, so much so, that it can be done with small children (and yes, we're talking toddlers). The trail itself is very pretty (lots of great photo ops). And takes a little over half an hour to do – just don't forget your swimsuit!
Finca Lima a hidden gem at Escambray
If there is one thing makes experiencing the Escambray all the more authentic and extra special is doing so like a local and spending time among real Cuban cowboys (campesinos). Making a day trip of it is not enough, lingering and staying at Finca Lima can bring your rural adventure to another level. As you've already seen if you read this far, there's so much to see and so many trails to trek and paths to explore. So this place truly deserves a longer.
Rustic accommodation
At Finca Lima, rural doesn't mean roughing it up (too much). And although you'll stay on a family-run farm, the facilities you'll enjoy will be more than comfortable. This is boutique-mountain-chic-meets-bucolic-ranch-style. Add to this the warm hospitality of the hosts and the awe-inspiring surroundings. Also you'll wonder how can anyone choose to stay anywhere but here in this part of Cuba. You can even get hands-on in the daily running of the farm and help milk a cow or brush a horse.
Cuban cowboys – in good company
A stay in Finca Lima brings you closer to the heart of rural Cuba. As well as gives you a rare glimpse into the day-to-day of humble countrymen. These gentle-natured people will captivate you with their candidness and simplicity, while the ranch's location will put you right in the middle of two amazing destinations. With easy access to Trinidad's urban, historical attractions and Escambray's virtually endless trekking, hiking and climbing opportunities.