Royal visitors landed in Cuba last week; making it the second time in 2019 that European royalty sets foot on the Caribbean island. King of Spain, Felipe VI and Queen of Spain, Letizia touched down in Havana last Tuesday. Coinciding with the prelude to the celebrations of the Cuban capital's 500th birthday. An iconic visit at an iconic time; given that it was a Spanish governor who founded the city, once a Spanish colony. If you want to experience Cuba like a royal; in this blog post we give you a few tips on where to stay, dine and hang out for a royal experience.
---
First it was Charles and Camilla, the Prince of Wales and the Duchess of Cornwall who landed in Havana; in March this year for a historic visit that made headlines everywhere. They were seen strolling down Old Havana; tasting local Cuban cuisine and driving a classic British car (a 1953 MG) down the city's streets. Now Havana just received its second round of royal visitors in 2019. This time a king and a queen, making it the first time a reigning Spanish monarch visits Cuba on an official state visit.
King Felipe VI of Spain and Queen Letizia of Spain followed in the steps of the British royals. And they chose a fitting occasion in the build-up to the celebration of Havana's 500th anniversary. A city that, since its foundation in 1519 up until 1989 was a Spanish colony; the longest the Spanish kingdom managed to hold onto. Before their overseas empire in Latin America collapsed at the end of the 20th century.
A long overdue trip – the strong Spanish-Cuban connection
There is a lot of history uniting Spain and Cuba. So much and with roots that reach so deep; that one can only wonder what took the Spanish royals so long. Well, prior to King Felipe VI and Queen Letizia's visit to Cuba this November, politics had gotten in the way. With their royal predecessors King Juan Carlos and Queen Sofia having fleetingly visited Cuba back in 1999; on a very short non-official trip. Due to the staunch opposition from the right-wing Spanish prime minister back then. This time it was Pedro Sanchez' left-wing government who propitiated the visit and made it an official state affair; setting the scene for a long overdue historic trip.
Experiencing Cuba like a royal
But what did they do? Where did they stay? What did the King and Queen of Spain get up to during their time in Cuba? Where did they dine? Where did they go? And how can you too experience Cuba in a royally luxurious way fit for a king and queen? We'll proceed to illustrate.
Iberostar Gran Packard – a new ultra-luxurious hotel overlooking the sea
During their 3-day trip to Cuba, the royal Spanish couple stayed at the Iberostar Grand Packard. Showing loyalty to a Spanish hotel chain and adding prestige to the already ultra-luxurious property. Having opened less than a year ago and providing chic accommodation; one stunning infinity pool overlooking the Paseo del Prado avenue and the sea. This exquisite hotel exudes contemporary elegance and style with Cuban flavour and authenticity. And we can't forget to mention the amazing vistas over the Malecon seawall and the Morro fortress. This luxury five-star hotel is definitely fit for royalty.
A royally grandiose tour – where the Spanish royals went
Just hours after landing in Havana, the Queen and King of Spain got on with their busy agendas. And while the Spanish monarch went along with Cuban president Miguel-Díaz Canel to witness the signing of a framework of cooperation between the two nations. Queen Letizia was taken by the Cuban first lady to visit local workshop school Gaspar Melchor de Jovellanos; next to the photogenic convent of San Francisco de Asis. Which she also stopped at to admire the restoration works financed by the Spanish cooperation agency.
Letizia continued towards Plaza Vieja, one of Havana's most iconic locations. Where she was taken through picturesque cobblestone streets and quirky corners of the city's historic centre. You don't have to be a royal to get a feel for this part of Havana's colonial grandeur. It instantly takes you back in time.
Catedral de La Habana – a romantic stroll
In the afternoon, the Spanish royal couple reunited for a bigger dose of Cuban heritage. This time walking around the Havana Cathedral and donning different outfits, more apt for the tropical Cuban weather. While Letizia wore a cream-coloured sleeveless, below-the knee-dress, the Spanish King, in a nod to Cuban culture, donned a "guayabera". A traditional Cuban shirt, which in his case was blue, perhaps indicative of his blue blood (guayaberas are typically white).
Hand-in-hand, they leisurely walked along Havana's streets, and it was Felipe himself who served as somewhat of a tour guide. Showing he had done his homework on Cuba as he explained the features of the Havana Cathedral as well the palace Marques de los Arcos.
Gran Teatro de La Habana – a grand way to finish the evening in style
To wrap up their first night in Havana; the Spanish royals enjoyed a special performance by the Ballet Nacional de Cuba at the beautiful Gran Teatro de La Habana. As a tourist, you too should make time to catch a ballet performance during your Cuba holiday in Havana. It's not just about the splendid ballet show but also about the grand Neo-Baroque building you'll be enjoying it in.
A royal lunch at a Havana paladar – where the royal couple ate
To show real closeness and support to Cuban entrepreneurs; Felipe and Letizia couldn't have left the island without stopping to eat a paladar (what Cuban private restaurants are called). The chosen one was Ivan Chef Justo, one of the private restaurants of the moment in Havana. Where Javier Bardem and Penelope Cruz were also photographed during their Cuba holiday in March.
What was on the menu? Crab salad, liquid shredded beef croquettes (croquetas líquidas de ropa vieja) and the restaurant's famous "lechon asado" (roasted piglet). According to the paladar's chef and owner the king wined on a special Marqués de Cáceres bottle; while Letizia stuck to sparkling water.
If Cuban paladares are good enough for royalty (and celebrities) they're surely good enough for the rest of us! To eat like a royal in Cuba you certainly don't need to fork out a small fortune. Queen Sofia set precedents by dining at La Guarida (contributing to the restaurant's posterior success). While Obama left his mark by dining at paladar San Cristobal, now a place of cult for Cuban diners and tourists.
More of Havana on the second day – historic centre and art
On their second day, the King and Queen of Spain were treated to a more extensive tour of Havana. With the expert guidance of the Historian of the City, Eusebio Leal Spengler; the man responsible for the restoration of a great part of Havana's historic buildings. After the tour he received the honour of being bestowed the Order of Carlos III in the Palacio de los Capitanes Generales. Which is located in Plaza de Armas, Havana's oldest square; the only one with wooden cobblestones and one that you too should definitely stop at to drink in the enchanting old-world feel.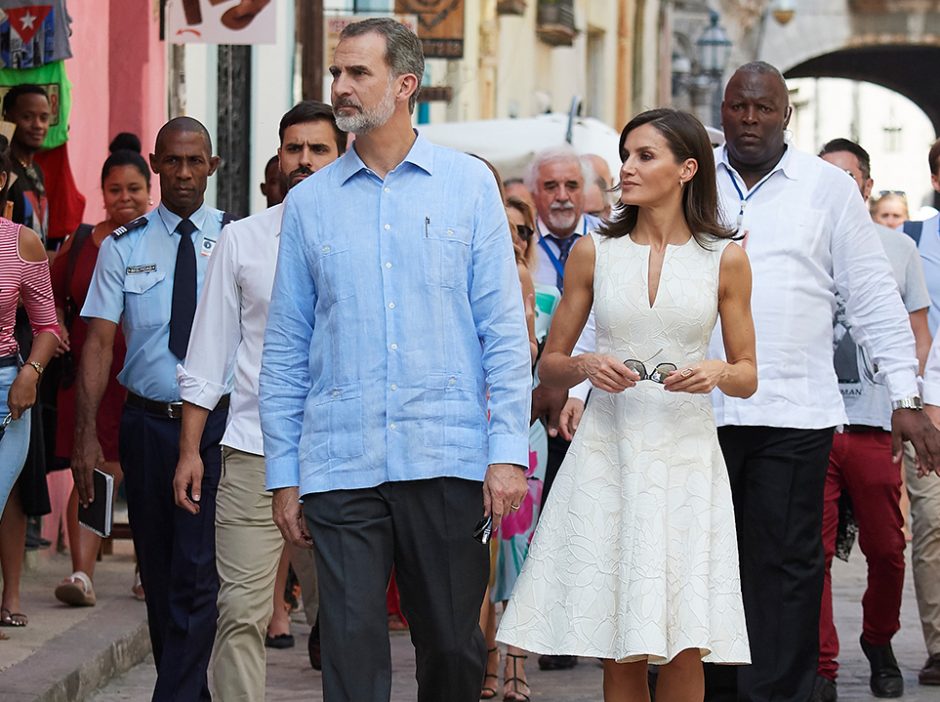 Museo de Bellas Artes – photo op next to a Goya original
The royal tour of Havana also included a stop at the city's Museo de Bellas Artes (Museum of Fine Arts); where after inspecting the many art pieces on show. The Spanish monarchs where photographed alongside an original portrait by Spanish artist, Goya; a temporary exhibit donated by Madrid's Museo del Prado. Again, visiting the Museo de Bellas Artes is a must-do when in Havana, just the buildings themselves, of royal proportions and striking eclectic design, will make for stunning photographs. Inside, every art lover will be indulged in more than one way.
A short stint in Santiago de Cuba
On their last day in the island, the Spanish King and Queen flew to the eastern city of Santiago de Cuba (once the Cuban capital, the island's first). To pay tribute to the Spanish soldiers that lost their lives during the Spanish-U.S. war of 1898.
The sober act consisted of a special ceremony at the Castillo del Morro de San Pedro de la Roca; a grand castle and fortress similar to Havana's Morro but with a backdrop of lush mountains. Followed by a similar tribute at Las Lomas de San Juan; a historic landmark famous for the battle between Spaniards and Cubans that took place here.
To mark the occasion, the royal couple was photographed next to a bronze plaque; sculpted to mark their visit and which is now set in the fortress' stone. This brought a more symbolic and sentimental end to the trip, much like the way the royal visit had started when, upon landing in Havana. The royal couple laid a wreath at the Plaza de la Revolucion square in Havana; to pay tribute to national Cuban hero, writer, poet and independence fighter, Jose Marti. Just as the British royals had done upon arriving in Cuba. It seems that visiting Plaza de la Revolucion is an obligatory stop for all heads of state visiting Cuba. So for a royal entrance to Cuba, stop there first (wreath-laying optional).
Experience Cuba like a king or queen
While you might not experience the same "vivas" that resounded throughout streets of Havana as Queen Felipe VI and Queen Letizia walked along, you too can experience Cuba in royal style, as this blog post proves in detail. As to the royal Spanish heritage, there's plenty of it to experience all around Cuba, but specially in Havana, which, for more than 400 years was the jewel of the Spanish crown.