Discovering Cuba is not as straightforward as one might think. Especially not if you really want to get under its skin and see the many hidden aspects bubbling under the surface. This documentary-inspired journey through Cuba will open your eyes to a Cuba that not all tourists get to see. But one that will most definitely leave a lasting impression. Join us as we take you through Cuba's ravishing landscapes with Joanna Lumley's personal experience and reflections on beautiful Cuba.
---
Joanna Lumley's recent ITV hit "Hidden Caribbean: Havana to Haiti" sees her embark on an eye-opening journey. Along two of the Caribbean's most fascinating nations, unearthing history, culture, customs, politics and peculiar quirks in ways few other travellers get to experience. Her real and raw encounters are likely to resonate with many curious travellers seeking similar authentic experiences hidden. And also a good dose of sobering reality. All of this with generous splashes of colour, music and flair… we're talking about Cuba after all!
Following Joanna Lumley's steps through "Hidden Cuba"
If you've watched the two-part documentary and would love to embark on a similar authentic, riveting journey like hers, away from glitzy hotels and resorts. But not skimping on glorious beach settings, as Cuba experts with local knowledge and insider tips. We're here to illustrate the best way to see, feel and breathe Cuba, Joanna Lumley´s style. This is a full itinerary including the places she visited. Meet the kind of people she met and the kind of discoveries she made…well, at least the Cuba part!
Exploring Havana's backstreets
In her first episode Lumley is wandering through Havana's backstreets. Exploring the less touristy and less aesthetically-pleasing part of the city on her way to meet a rising female boxing star. Cuba has a famous history of champion amateur boxers having won 37 Olympic gold medals. More than any other country in the world.
Basking in shabby chic glory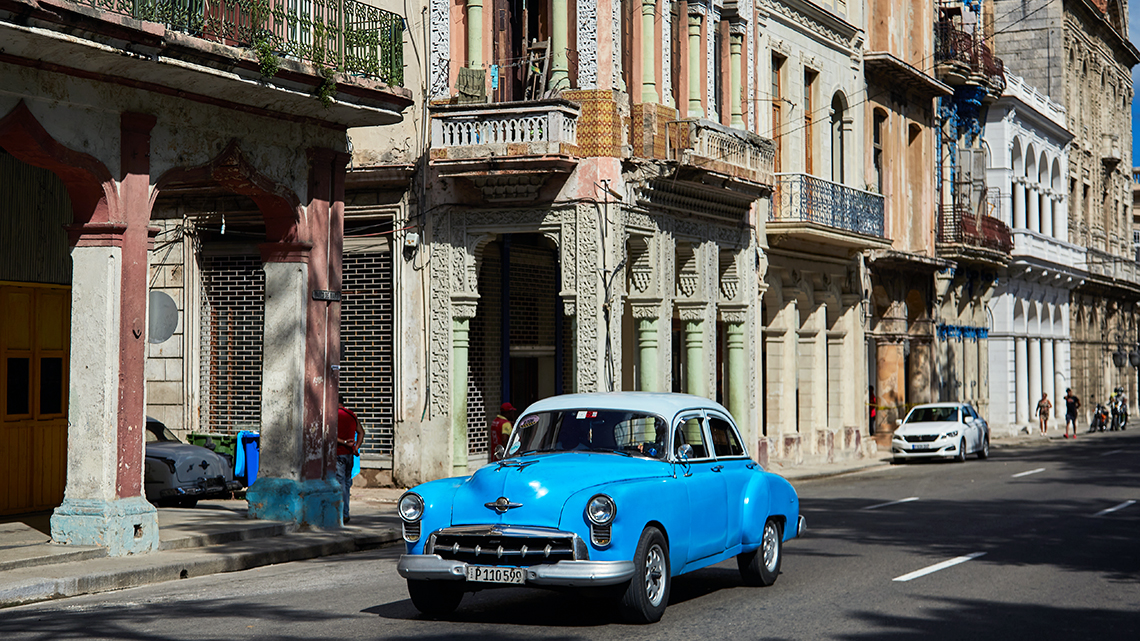 As Joanna Lumley makes her way through meandering streets with striking colour contrasts and varying balcony shapes. It's clear to see that even in the way that the walls of Havana's paint peels off there is drama and poetry. Why? Because of the grand architecture at the core of it all. It doesn't matter if the walls are battered, the paint weathered and flaking, on many of the structures. Even when laid bare down to their very bones, are indeed remarkable.
On the "chic side of shabby"
The colours of Havana, even in the worst-preserved areas, (actually, especially there!) are astonishing. Because as one wall paint crumbles it reveals a different colour underneath. In ways that add to an indescribable dramatic retro feel. It seems infused with a lot of soul. Shabby it may appear, but shabby it is not, not entirely.
Or, as Joanna perfectly puts it, Havana is:
"Just on the chic side of shabby."
The sounds and the energy of the place perfectly add to it all and Joanna emulates as she moves forward. You can see why Havana's shabby chic splendour inspires photographers with many fashion magazine shoots having Havana as their backdrop. Most famously perhaps Rihanna's 2015 Vanity Fair, which takes us right to the place that Joanna visited next.
A blast from the past
Now, this is not actually mentioned in the documentary but the beautifully decayed and old yet magnificently grandiose colonial mansion that Joanna visits in Cuba to meet its dweller. To get acquainted with its extraordinary shabby chic interiors is also the location for Annie Leibovitz's Rihanna photoshoot for Vanity Fair's November 2015 issue.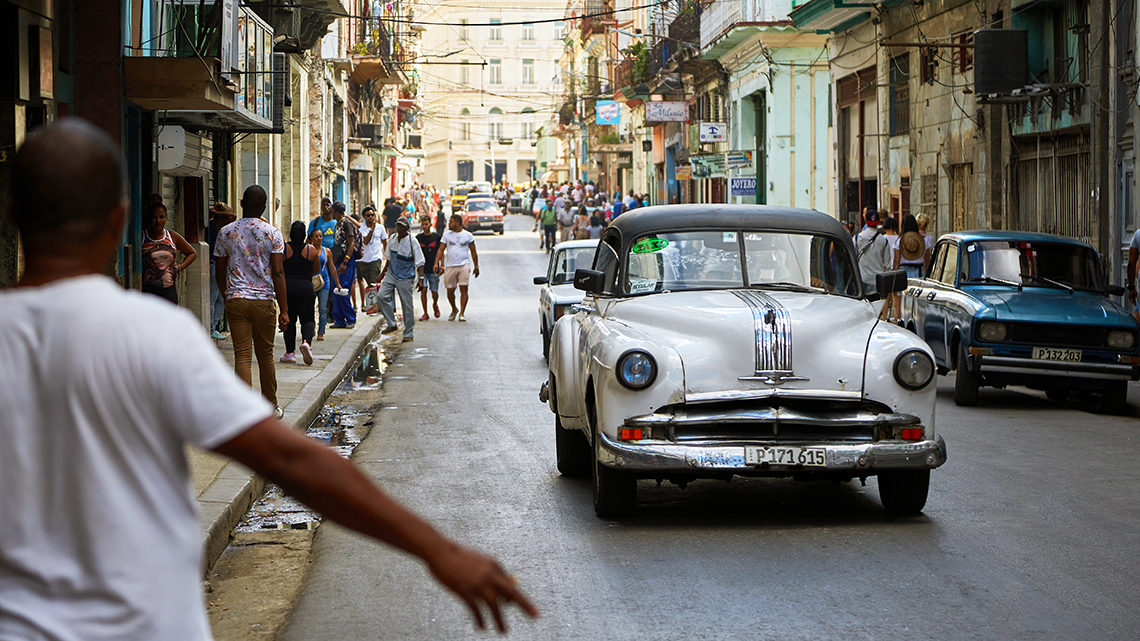 One of the rooms shown in the documentary as Joanna is given a tour around its vast beauty. Is where Rihanna was famously photographed in the nude. Its owner, Josie rents the house for magazine fashion shoots. And even some Cuban soap operas and films have been partly shot here. It's unclear how much she charges to visitors wanting to take pictures of her home. But if you're curious, have no commercial interest and you're kind and polite enough, (she complained that Rihanna was rude and never even said hello to her but loved talking to Annie), she might welcome the company and the conversation. It's definitely worth a try during your Cuba holiday!
Where to stay in Havana
To experience Havana in full character, we recommend staying in a "casa particular". Many of which share shabby chic similarities with that of Josie's. With the only difference that they are purposefully refurbished to offer guests modern comforts without altering the original colonial décor. Andre and Sandi Place in Old Havana is one such place while Penthouse Ydalgo in Vedado brings a breezy retro cool vibe with ensuite jacuzzi and more.
Enjoying a cabaret show
Joanna's next stop in Havana is the Hotel Nacional de Cuba. A grandiose property that survived the Revolution, waves of economic crisis and austerity periods. As Joanna rightly affirms in the documentary, the Nacional has valiantly withstood the test of time. And continues to gleam much as it did back when it was frequented by American mafia bosses in the 50s.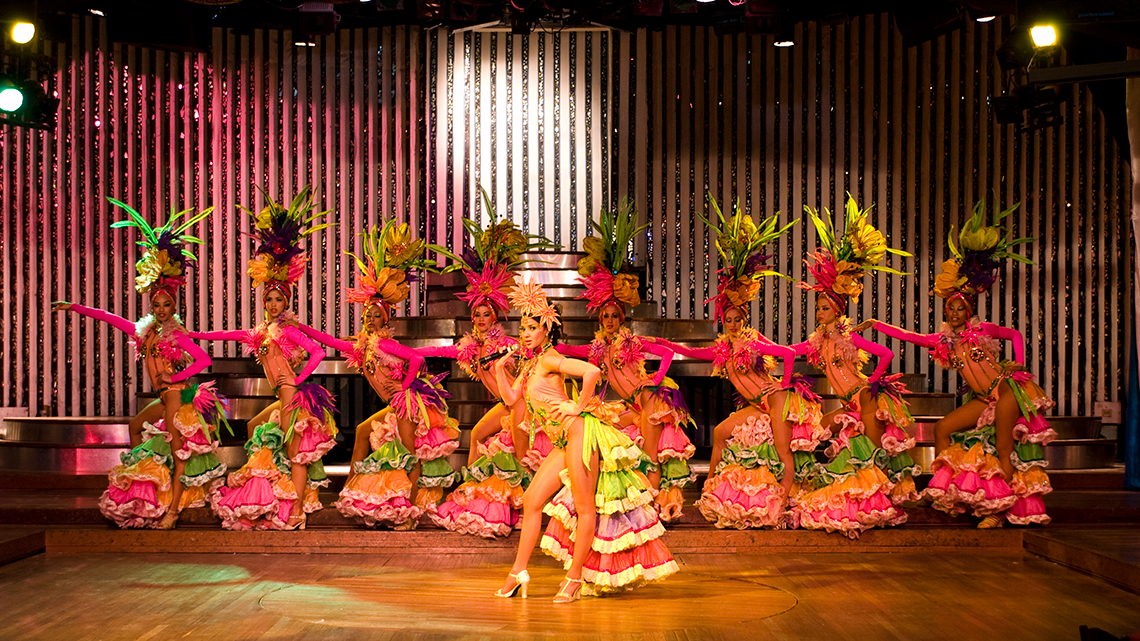 Beyond giving tourists an immersion into the Havana of the 30s, 40s and 50s, infused with Hollywood Golden Era memorabilia. If there is one thing that the Nacional is still popular for in Havana are its 40s and 50s cabaret shows, which continue to this very day. As Joanna Lumley explains, here the showgirls (and showboys) put on a stellar performance every night clad in bright feathered costumes.
Joanna went backstage to meet the dancers, see the rehearsals and get up-close and personal with the performers. On a visit to Hotel Nacional's Le Parisien cabaret show you probably won't get to meet the dancers backstage. But Cubans aren't shy so you can try your luck and approach them for a chat after the show is over.
A horse cart ride to lush tobacco fields
Of course, we don't mean for you to go from Havana to Viñales on horsecart. Not even Joanna did that, she is shown being ridden to a tobacco farm on a pony trap, but only a short part of her journey. She marvels at Viñales marvellous landscape as she arrives, dwarfed by the iconic "mogotes" (flat-topped mountains) in the background.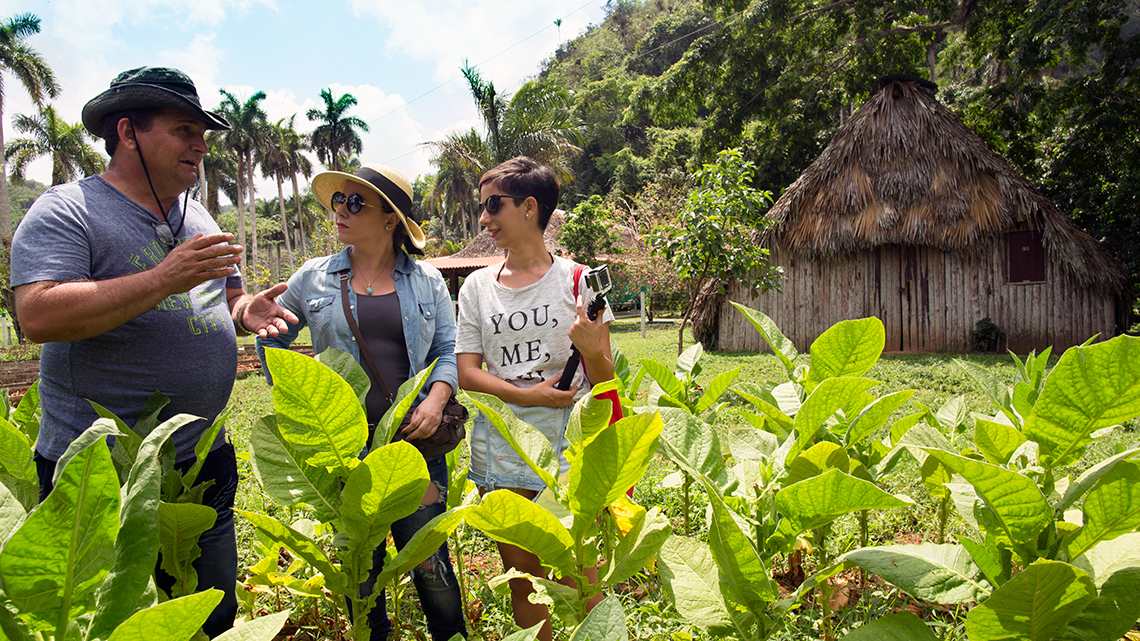 Viñales is "littered with tobacco farms" producing around 20,000 tonnes of the world's best tobacco. Lovingly and expertly rolled into the world's finest cigars. Joanna gets to meet one of the farmers and takes a tour of her tobacco-drying facilities. Where she gets to smell the dried leaves before they're shipped away to be sold to the government's cooperatives.
The art of cigar rolling
After her time in a Viñales tobacco farm, Joanna Lumley is whizzed off to a tobacco factory. Where the actual hand-rolling of cigars takes place. An important step in the cigar-producing business, each Cuban cigar is expertly hand-rolled by highly-skilled and trained cigar rollers. Who each roll, press and pack over 100 cigars per day. A long-held tradition in Cuban tobacco factories that remains alive to this day is that workers are read to while they work, typically novels. And Joanna tries her hand as a cigar factory reader…an epic fail as most of the workers don't speak a word of English…least of all Charles Dickens' English!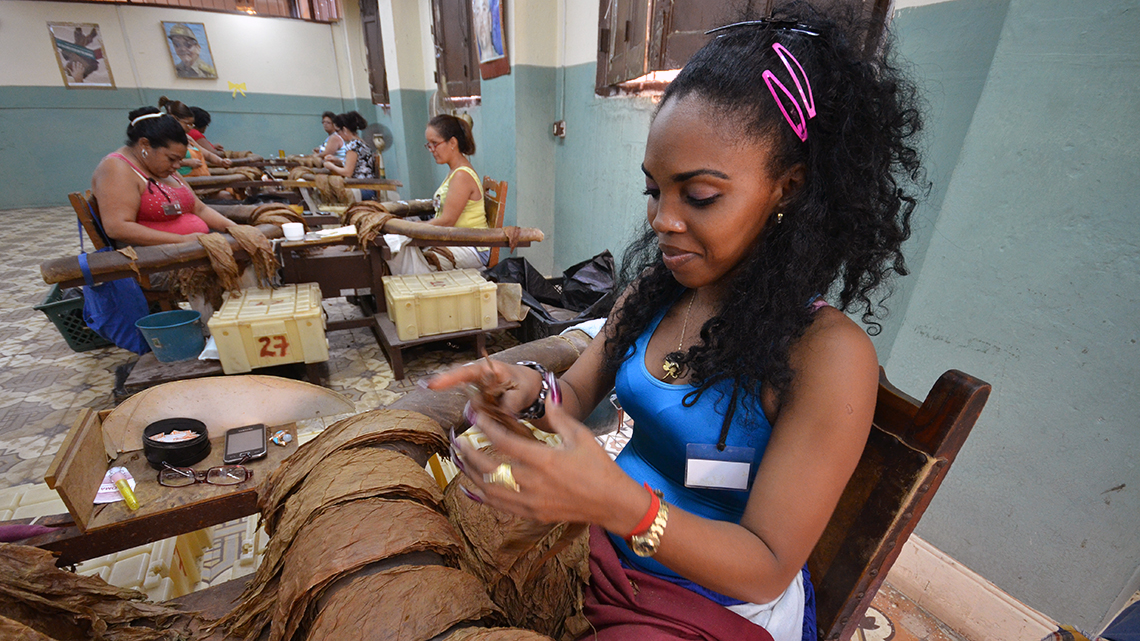 During your Cuba holiday you can of course visit a tobacco factory as many offer guided tours. But better refrain from the reading part though, unless you can muster some decent Spanish!
Catching the legendary Hershey train
Joanna's previous research on catching the legendary Hershey train in the town of Casablanca (part of the Regla municipality in Havana) proves misguiding. As local informs her that Cuba's most famous (and only) electric train no longer stops here. And it hadn't done so for the past two years. If she had gone along with Cuba Private Travel, we would have pointed her in the right direction from the start. But she got there eventually by being given a bumpy lift to the town of Jaruco!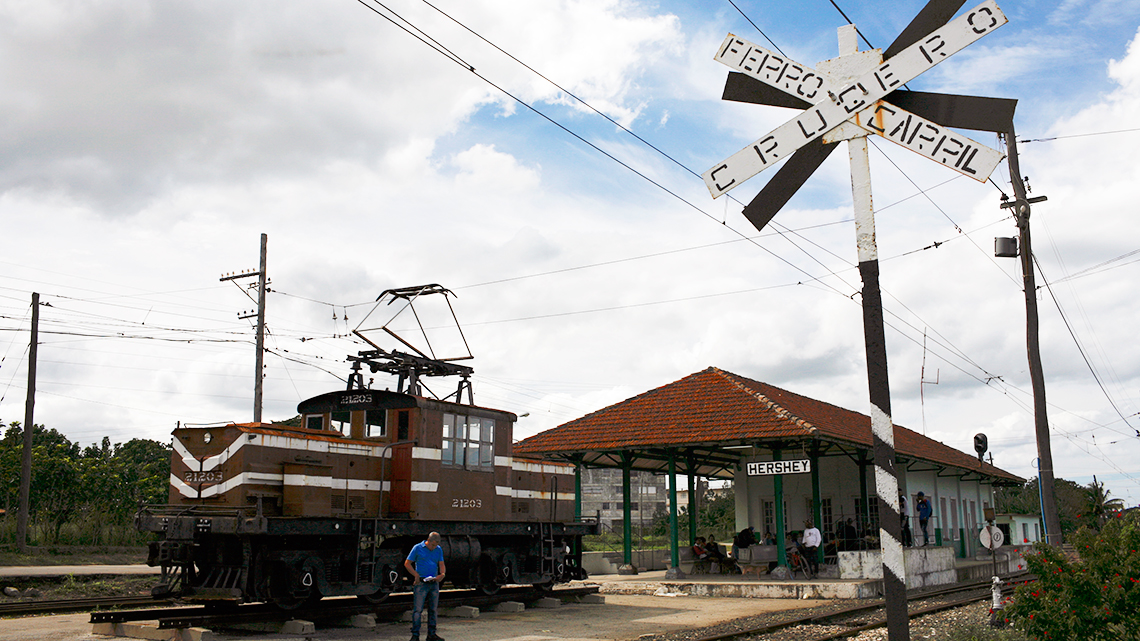 The electric railway was bought by American chocolate magnate Milton Hershey and he didn't just buy the trainline. He also bought vast sugar mills (for his burgeoning chocolate business), a sports field, schools and houses for his future sugar workers. He basically built an entire town where there was nothing but empty fields and shabby huts. Mr Hershey was fondly remembered by his workers. One of whom Joanna got to meet right at the house that Hershey had built for his family.
Hershey's sugar mills now lies derelict and the town no longer makes a living off the sugar trade. Yet, the houses that Hershey built along with many other facilities still remain almost intact with a certain air of Pennsylvanian style. Wich makes it all the more picturesque. You can breathe in the history, enjoy a quirky train ride and explore Hershey's namesake town. Where Hershey signs still hang in a place full of nostalgic and bittersweet (chocolaty?) remnants.
The Bacunayagua Bridge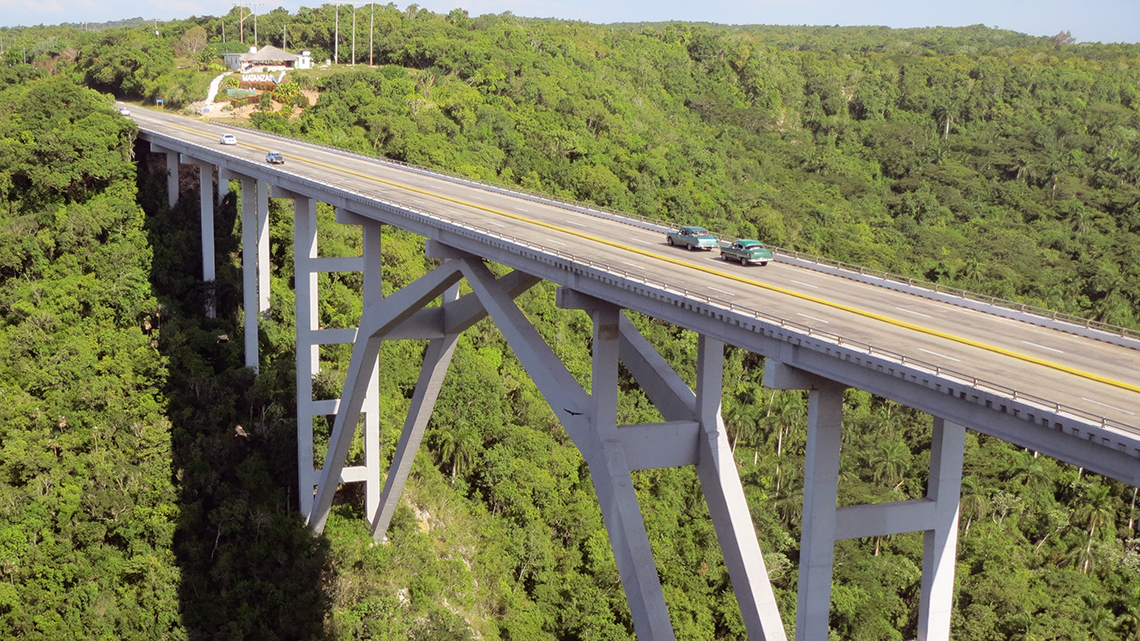 On her way to Matanzas, Joanna stops off at the famous service station that overlooks the impressive Bacunayagua Bridge. A feat of engineering set amid the most spectacularly lush surroundings. Here she experiences what she says, is her first ever taste of pina colada, aptly served in a pineapple shell.
Matanzas, but not as you know it
Most tourists go to Matanzas for one thing and one thing only – Varadero's glorious 20-kilometre-long beach stretch. Yet Joanna skipped the sugary white sands and opted to get to know the city "of bridges", also dubbed the "Athens of Cuba". By walking its streets and heading straight to one remarkably "unchanged" establishment.
The world's only remaining 19th century French drugstore
In Matanzas, Joanna Lumley steps inside a 19th century apothecary that for nearly a century "cured and soothed" the people of Matanzas with its artisanal medicines, remedies and potions. The chemist shop, founded by Frenchman Ernesto Triolet, looks just as it did a century ago. With immaculately preserved and original displays featuring all kinds of medicines, ointments and curative concoctions.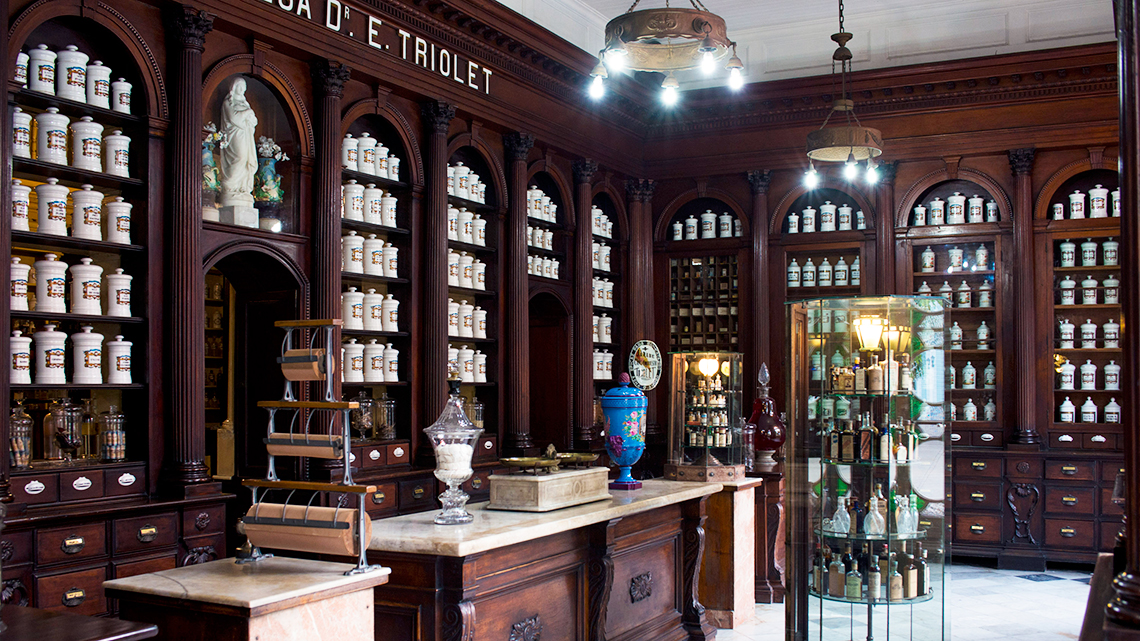 The pharmacy is open to the public as a museum nowadays and it's well worth a visit. We promise it will be like stepping into another era and the knowledgeable guide will let you in on its many secrets and curiosities. Including an old machine for manufacturing suppositories by hand and many other extraordinary titbits. It's the only remaining 19th century French boutique in the world. Also a declared National Monument, so well worth a look!
Getting down to authentic Afro-Cuban sounds
Not many people know so, as a regular Cuba package holiday doesn't always allow for deep cultural immersions. But Matanzas offers some of the best live rumba spectacles, performed on the city's backstreets. This city is big on Afro-Cuban traditions. And as Joanna rightly says, is the birthplace of one of the best rumba bands in the world – "Los Muñequitos de Matanzas". More than a rumba band, the group is a family of performers, a real family. As they're all related to each other, much to Joanna's surprise when she finds out.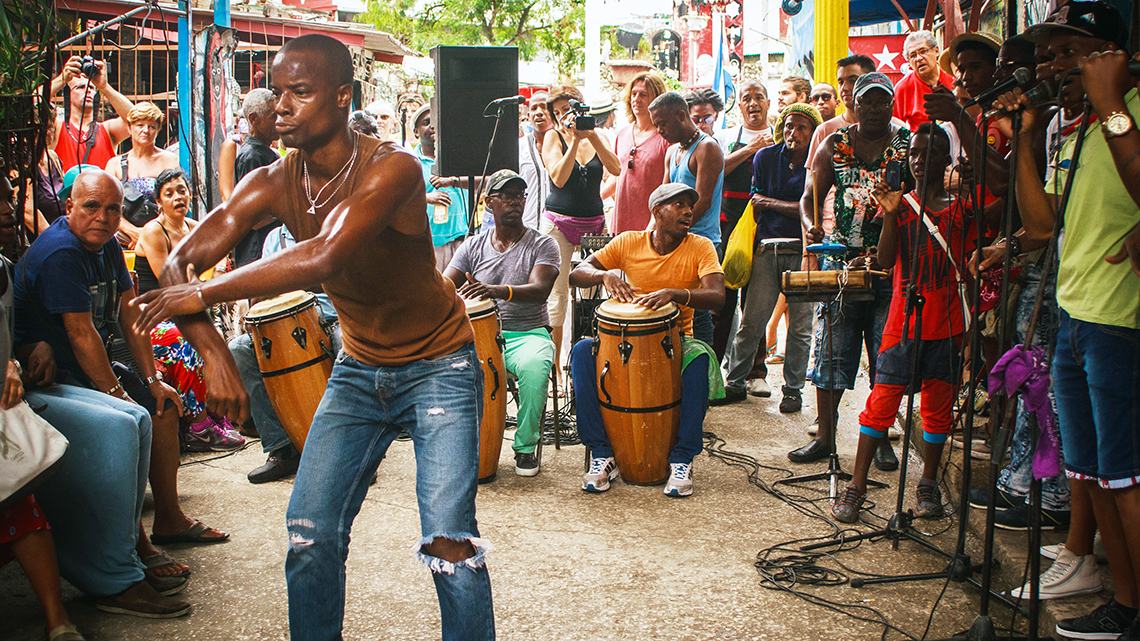 Joanna Lumley gets to watch them perform indoors as weather inclemency spoils the street party initially. But moments later, she finally gets to see the full show performed as usual, right on the city's streets. You can catch a live rumba session in Havana (famously one takes place at Callejon de Hamel on weekends). Although perhaps the most authentic, less-tourist ones can still only be found in Matanzas.
Overnight in Matanzas
If you want to linger in Matanzas and spend the night (or more). Here we recommend yet another fantastic "casa particular" set overlooking Matanzas Bay. Hostal Noyale is a charming casa particular with a rooftop terrace offering magnificent sea views.
Visiting Che's final resting place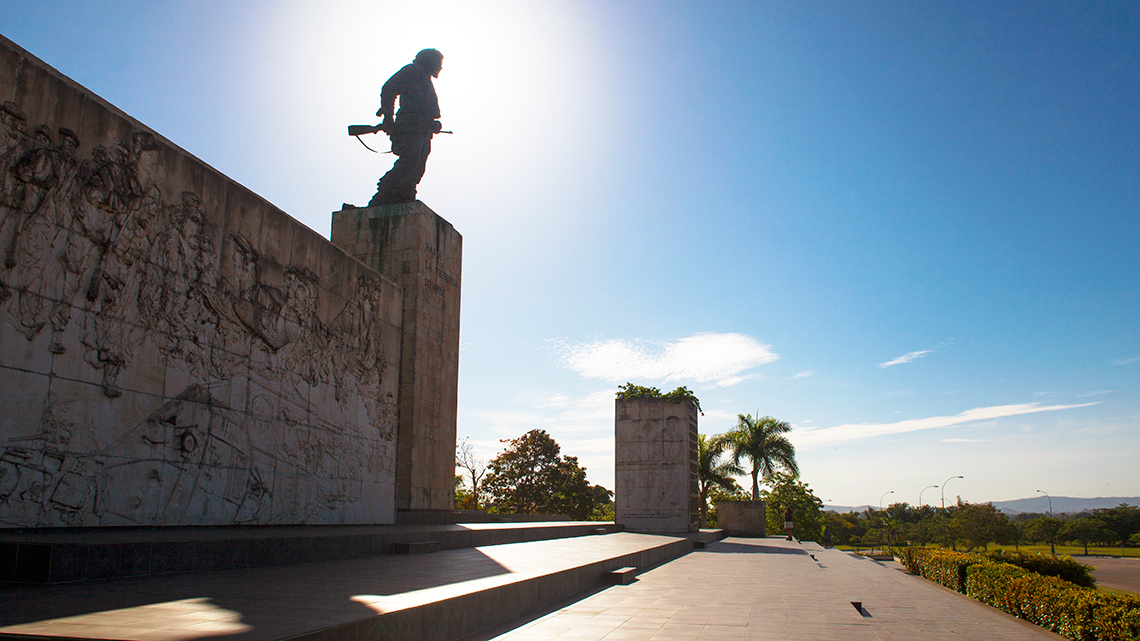 Joanna Lumley's next stop on her Cuba journey is Villa Clara. There she stops by Che Guevara's mausoleum in Santa Clara to reflect on the Cuban Revolution's values. The legacy and Che's iconic figure before moving on to Cayo Guillermo, a virginal key and luxury beach resort found just off Villa Clara's coast. Where she learns about one of the latest luxury developments being built here by Swiss hotel group Kempinski.
Hemingway's favourite beach
The string of idyllic keys in Ciego de Ávila's Jardines del Rey archipelago, of which Cayo Guillermo is a part of, are said to have beguiled American novelist and Nobel prize winner, Ernest Hemingway. This is precisely how Joanna Lumley starts her description of Cayo Guillermo. By explaining how the key's "powdery coral beaches once entranced" the famous American author. She also explains how, in privileged places of natural beauty like this one, Cuba is experimenting with a move away from mass beachfront tourism (like Varadero) to a more modern luxury market with a boutique holiday feel.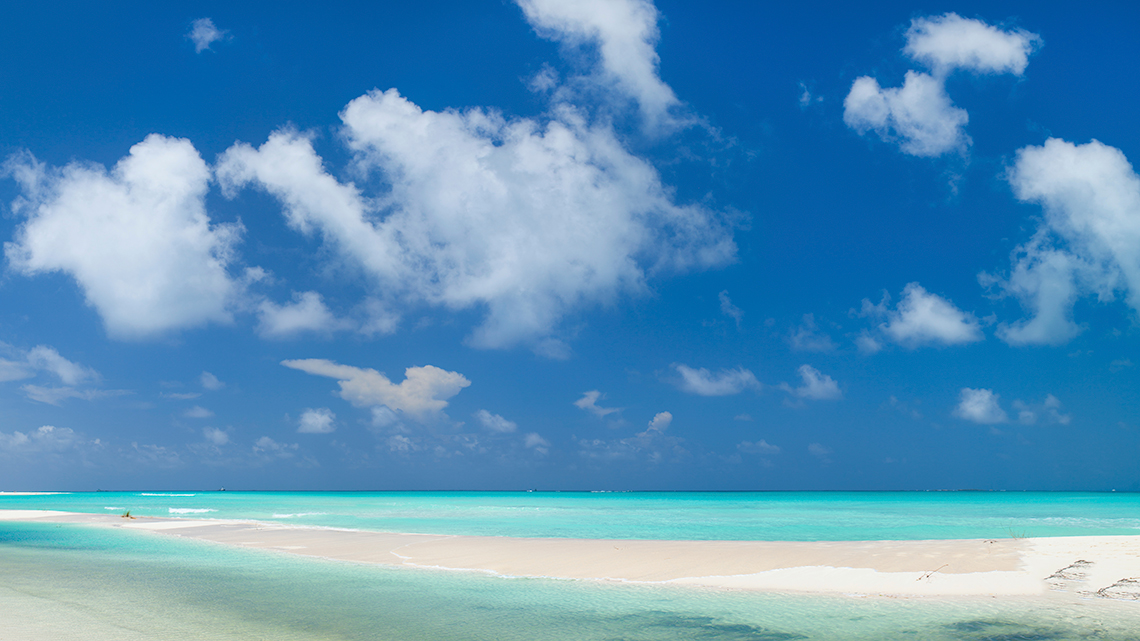 She is given a tour of a soon-to-open luxury beach resort Cayo Guillermo Resort Kempinski Cuba. With overwater villas and private plunge pools overlooking the life-rich waters, teeming with tropical fish.
During her time in Cayo Guillermo she also learns about the regeneration of red mangroves. Which are vital to the sea life and the ecosystem of not only this part of Cuba, but the entire Mexican Gulf. Here she meets what she describes as a friendly "marmot-like creature" who is happy to eat "saltinas" off her hand and is actually a "jutia", an endangered rodent species native to Cuba.
Experiencing the Revolution in Santiago
To get a feel of the "other Cuba", the country's exciting and less-trodden east, she heads to its hottest, loudest and most vibrant city, Santiago de Cuba. The island's most revolution-proud city. Here she learns not so much about its revolutionary past but more about modern daily life and local entrepreneur's hidden shops inside their homes and gets her hands on a pair of comfy but also glitzy white trainers with that bit of sparkle that reminds her of the flashy rumba session she experienced in Matanzas. Joanna Lumley starts by saying that Santiago de Cuba is Fidel Castro's town, which is actually incorrect as he was born and raised in Biran, a town in the nearby province of Holguin, but we'll forgive her for that, as Santiago is close enough.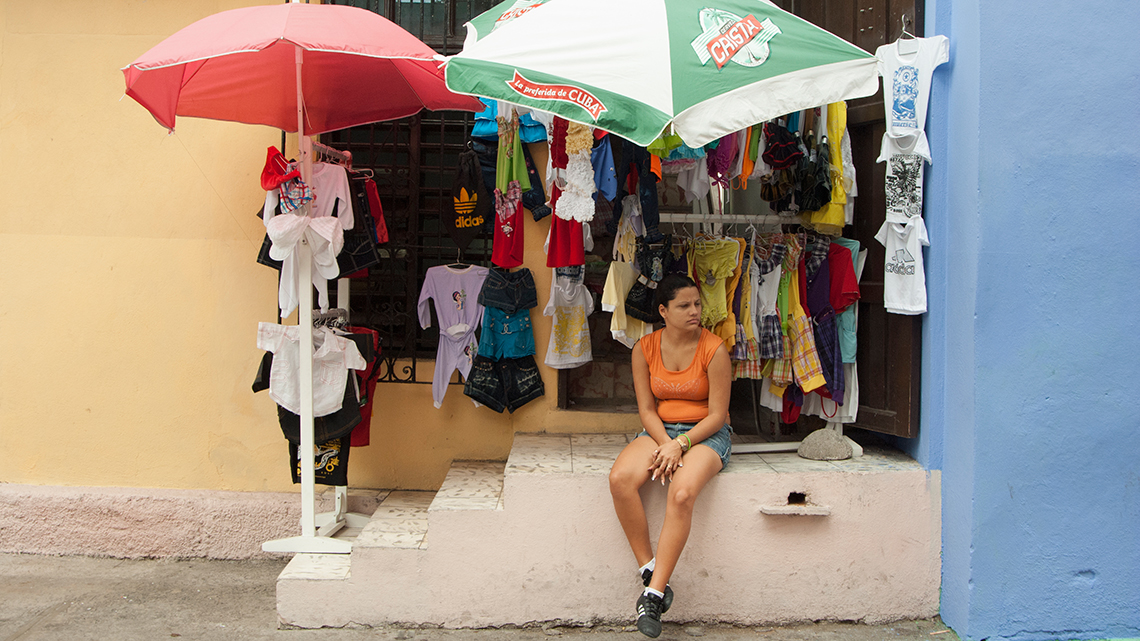 She then proceeds to a very peculiar fern sanctuary, owned by a passionate Cuban fern-lover and amateur botanist who looks after a magnificent variety of fern and other plant species. The "Jardin de los Helechos" is a private collection of Manuel (a.k.a. Manolo) G. Caluff who he himself donated to the Academia de Ciencias de Cuba. This "santiaguero" started his collection back in 1976 and continues to personally look after the more than 1,000 plant species sprawled across the garden's more than 3,000 square metres aided by a team of 15 gardeners. You'll find it in the town of El Caney and anyone can visit for a small entry price of 3 CUC.
Where to stay in Santiago de Cuba
To stay right at the heart of the action within easy walking distance to all of Santiago de Cuba's city centre attractions, we recommend Hostal Heredia and if you don't mind staying in a quieter residential area, go for the peace and quiet of Eastern Villa, an ivy-covered house with plenty of colonial character and charm.
Giving Guantanamo a good name
Sadly, due to the U.S. naval base and disputed occupation of a portion of the Cuban city of Guantanamo, this province in Cuba has a less than good claim to fame. Yet, conversely, its capital is one of the most charming, picturesque and peaceful you'll encounter in the Cuban archipelago, as Joanna Lumley soon learns.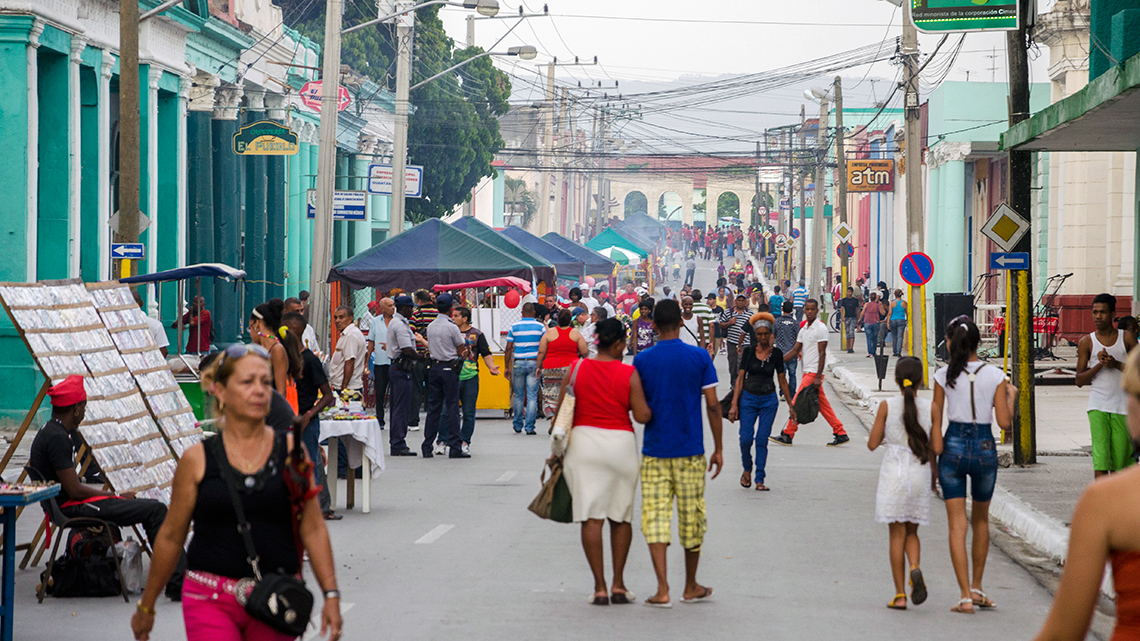 As she rightly asserts, Guantanamo Bay's infamous reputation may meant that most people are not aware that it's actually in Cuba, in a slice of Cuban land, yet you won't be able to get anywhere close to it as the American base is closed off territory with (as you can imagine) very tight security. Joanna gets as close to it as anyone possibly can by climbing on a hill and looking over the ten-mile exclusion zone and detention zone. You can only get a slight glimpse of the are but that's enough to give anyone chills. For years Cuba has protested and demanded this piece of land be handed back to the island, sadly to no avail, yet.
But the city of Guantanamo is nothing less than charming as Joanna soon learns and far removed from the detention camp's ominous vibe. Here Joanna makes a discovery that many other tourists before her possibly made and that's the fact that the popular Cuban song, "Guantanamera", allegedly sang by hippies all over the world during the 60s, is actually about a girl from Guantanamo, hence its name "guantanamera". To this tune which she hears sang by a young Cuban girl and part-time English teacher with aspirations to become a singer.
Ending it all on a daiquiri-flavoured note
Just before she left Cuba, and strictly for "research" purposes, Joanna indulges in cooling sips of one of Cuba's most famous and international cocktails, the daiquiri. She downs a few sips of this popular beverage in a Guantanamo bar that, she says, is famous for them.