The Perfect Combination
Get to know the fantastic city of Havana with its centuries of faded beauty, music, dance, art, architecture… fill your eyes and your soul with its energy. Then head south and immerse yourself in the azure Caribbean sea whilst sailing in your own staffed private catamaran. This is the perfect city and sea adventure.
Included
Accommodation
Private Transfers
A personal guide
Custom guided tours and activities.
Restaurant Reservations and entry fees according to itinerary.
VIP arrival
Concierge services
Visas
Note: FOR US CITIZENS, we provide a fully legal itinerary.Checked by our legal team in the USA who are experts in OFAC travel related regulations. Additionally, our guides will school you in Cuba so that the trip is correctly documented should you ever be audited.
Snapshot of your Journey
Day 1: Welcome to Havana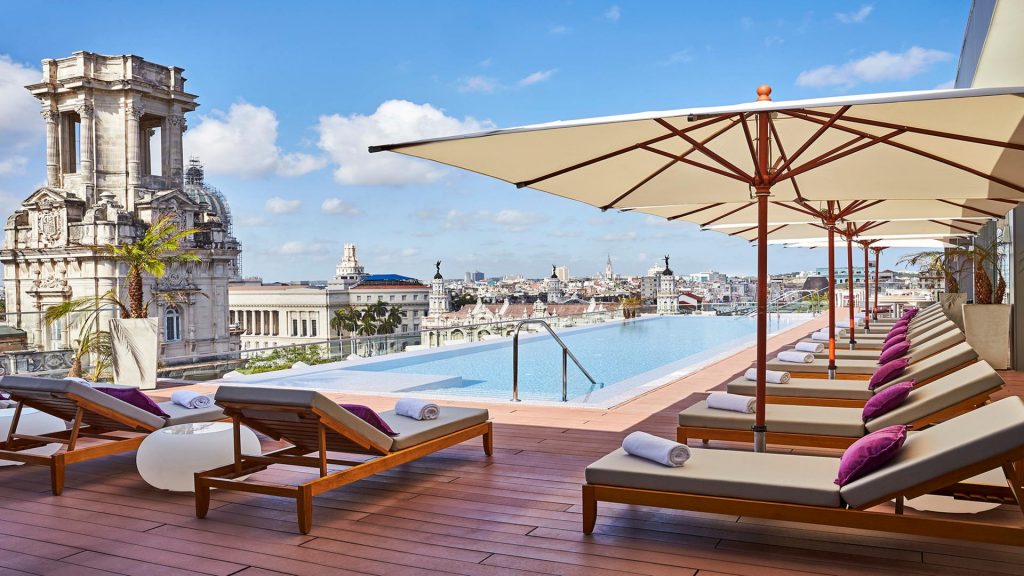 Upon leaving the plane, you will be met by an airport rep that will take you through customs into the VIP lounge. Our airport representative will meet you after going through Customs and will lead you to your guide. In the city, afterwards you will check in at Kempinski rebuilt on a building originally constructed between 1894 and 1917 as the first European style shopping arcade in Cuba; Gran Hotel Manzana Kempinski is located in the heart of Old Havana.
Your private concierge/contact person on land will welcome you at the Hotel and go through your itinerary with you and make suggestions of places to see and things to do. Later you will enjoy dinner at Más Habana restaurant, an excellent new addition to the Havana Food Scene, centrally located in the Old City.
Day 2: Exploring the City
Firstly walk in the footsteps of Havanas colonial past visiting the four key squares of Old Havana, a UNESCO World Heritage site, with our expert guide offering insights into the history and present of the city and the country. Later take lunch at La Vitrola, considered one of the most typical bars/restaurants in Old Havana, has lively live music in the afternoons. In the afternoon, Hemingway tour visiting the Ambos Mundos Hotel in Old Havana, his Finca Vigia in San Francisco de Paula, south of Havana, and, by the end, the Floridita Bar, the cradle of the Daiquiri, the writer's favorite cocktail. For the evening, fine dining at La Guarida, the Cuban most celebrated paladar since 1996, when the government allowed to open private restaurants.
Day 3: Cienfuegos
Your driver will take you from Havana to Cienfuegos; the transfer time to Cienfuegos is about 2hrs and 30 minutes. Once there, you will board the Lagoon 380 – Lagoon (2017) until Day 10 of your journey. The catamaran includes personalized concierge service, onboard consumables (batteries, gas), base management expenses, tourist tax, final cleaning, franchise insurance, dinghy, set of towels, outboard motor, linens, chef, and full board. On the other hand, if you want to know more about sailing around Cuba, read our blog Cuba by Yacht with Travel writer Lydia Bell.
Day 10: Back to Havana
Your driver will take you from Cienfuegos to Havana; the transfer time to Cienfuegos is about 2hrs and 30 minutes. Then you will take lunch at Cinco Sentidos, from the quality of the food to the exceptional service. It is one of the best new restaurants in town. Discover more of authentic Cuban music in the afternoon as part of our experience Cuban Music at Brenda's Terrace; Brenda Navarrete, one of Cuba's most talented female musicians, opens her house for those interested in learning about our oldest rhythms. Later, check in at Gran Hotel Manzana Kempinski. For the evening, we highly suggest dinner at Jibaro, a funky, small new restaurant in Old Havana, with attractive decor. Delicious small menu, combining old Cuban standards with Greek and Middle Eastern dishes.
Day 11: Departure
Enjoy a morning at leisure in Havana before departure.
Here you are some advice about things to know before a trip to Cuba.
To book this itinerary please email us at enquiries@cubaprivatetravel.com