There is much to choose from when it comes to street food in Cuba. There is no reason to waste 2 hours of a holiday in Cuba sitting in a restaurant, when you can safely explore a city or town while enjoying delicious street food. And mind you, there are amazing restaurants in Cuba!

Cuba has an undeserved reputation as not the ideal destination for foodies. Decades of economic shortages and the impact of the embargo or blockade have narrowed the choices available. That´s why Cubans are highly creative when it comes to food… and they love to eat! As Cubans go about their daily life (en la lucha, or the struggle, as they call the second nongovernment job many of them have). They munch and lunch on a variety of street foods. From the crispy to the gummy, from the overtly sweet to the savory. There is much to choose from, and usually for less than 1 or 2 dollars.
We are impressed by the guys over at XYU and Beyond. Who really see to have got the Cuban food scene. As well as ifood TV who also seem to have done their research…
Pizza
Cubans are mad about pizza! You will find this popular Cuban food in almost every street in Old Havana or Centro Habana. Even in classy uptown Vedado (but this is true of basically everywhere in the country) there will be a small stand or whole in the wall cooking up these doughy cheesy delights. Individual cheese pizzas cost between 5-15 pesos (20-50 cents), depending on the town. There's also meat options for all the carnivores.
TIP: To add some variety buy tomatoes, onion and avocado from the markets and put them on top. Inside ironic joke! When Havana´s Chinatown reopened in full splendor in the late 1990s, Cubans went in droves and would wait in line for… Yes, the best family size pizzas your money could buy!!! Not won ton or chop suey which became one of the most popular Cuban dishes.
Fresh fruit
The tropical weather that attracts travelers to Cuba also blesses it with delicious fruit. Though some like mangoes and avocadoes are seasonal, and can only be found during the rainy season. You can also find bananas, papayas and guavas pretty much year round, for very cheap prices. Step outside your comfort zone, and try mamey, a delicious red pulpy delicacy trapped inside a brown soft shell that can be easily peeled.
Another local delicacy children especially love are mamoncillos, which you can buy in a bunch and suck the sweet and tart pulp from the hard seed inside. Mamoncillos are the treat du jour in most beaches in Cuba.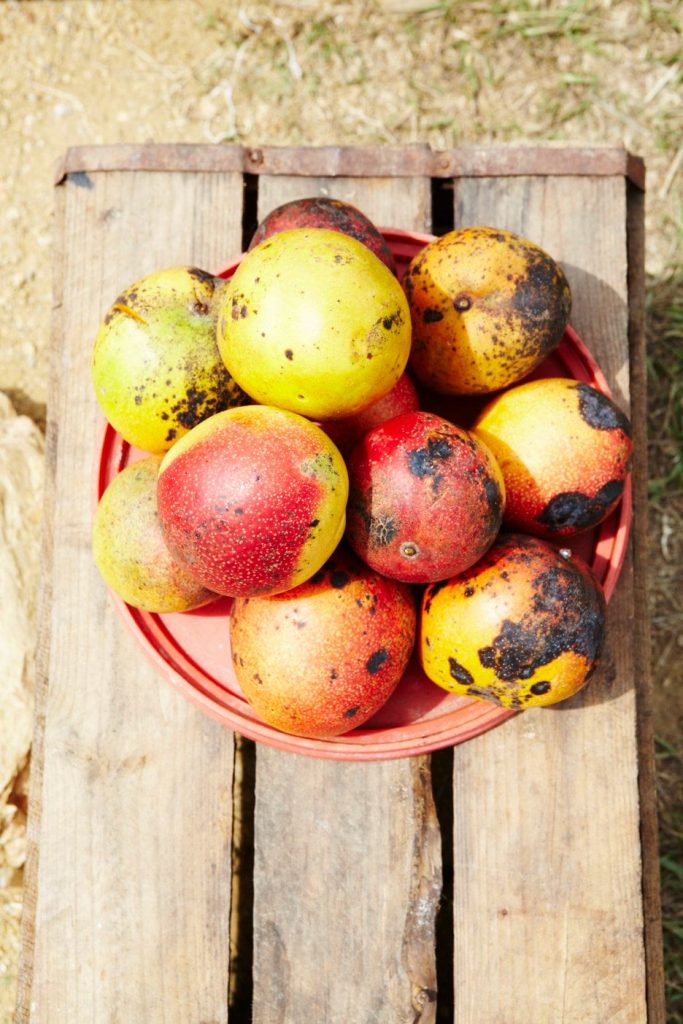 Sweets, sweets, sweets: churros, pastries and ice-cream
Cubans have a very sweet tooth, and load their coffee, juices and even drinks with it! There are tons of food carts, hole-in-the-wall vendors and even in front steps of a house or a whole cut in a window. Offering guava pastry (pastelito), slices of coconut or guava pie, and other sweet treats. Portions are small, generally, but so sweet a little bit goes a long way. Ice-cream competes with pizza for first position in the hearts of Cubans of all ages.
There are many ice-cream and gelato cafes (some surprisingly international in their array of flavors available). Though, one of the most ever-present street vendor in Cuba is the "bocadito de helado" guy. These are men walking around, or riding around in a bicycle, with a make shift cooler containing ice-cream sandwiches. Generally strawberry, chocolate or vanilla. There is nothing small about these sandwiches, and are best shared. In Old Havana you can also find rarer ice-cream sandwiches made from tropical fruits.
Every culture has its version of fried dough, and Cubans pay homage to their Spanish ancestors with the churro. Churros one of the most popular Cuban snacks can also be found pretty much everywhere. Can be purchased in paper cones sprinkled with sugar, of course. Many vendors also offer a choice of syrups and even condensed milk, to pour on top.
But I need a full meal! : La cajita and sandwiches
A full meal on the go? No reason why you can't have it. The thin cardboard box that characterizes a classic Havana ¨cajita¨ a popular Cuban food (a word that refers to both the takeout box and its contents). Isn't going to win any points for sturdiness or neatness. Although it can certainly fill a person up with tasty food. The traditional formula is a scoop of rice and beans topped with fried or breaded meat. But each vendor puts their own unique twist on it. A small portion of cucumber or tomato salad is common, along with some root vegetable like yucca or taro. The meat is often marinated for extra flavor, and there's sometimes a tangy dressing on top. And you can get all that for just a couple of dollars!
A national research done in the 90´s on food preferences in Cuba shed the result that the most beloved food item for Cubans was the ham and cheese sandwich. Though not as ever present as pizzas, you can definitely find hotdogs on a roll, ham and cheese sandwich, vegetarian sandwiches, and other strange combinations like croquette sandwich or ¨pan con croqueta¨.
Hint and wink, Cuba Private Travel concierges know where to find the most amazing pan con lechon or roasted pork sandwich, but do not expect the typical Miami sandwich cubano. Rarer to find, but not unheard of, is also corn on the cob, or roasted corn with salt, butter or black pepper sprinkled on top.
Street food on the road
When you take to the roads of Cuba, you will often find roadside vendors with fresh fruits, cheese and guava paste blocks, and sometimes coconuts with a hole chopped in them with a machete by a sun kissed guajiro. However, it is on the roads where sometimes you will find the
most delicious cafecitos, piña coladas and roast pork sandwiches. The latter is a Holy Grail for many Cubans, who sometimes will drive for miles just to go to one particular roadside stand with no sign where they swear the juiciest, most tender meat on a warm bun with some chopped onion and garlic can be found.
Roasted peanut in small paper cones can also be found pretty much anywhere, but some provinces offer other rarer treats like sesame or peanut nougat, and even peanut butter, as is the case with a small amazing co-op called Bomey in Santa Clara.
In the eastern mountains of Cuba, where the food may be by far the best in the country, you can also find a local treat called cucurucho de coco, shredded caramelized coconut presented in a cone made from dry banana leaves. This is a very popular gift to bring back home to family in Havana, as pretty much impossible to find in the west.
Coffee, juice and smoothies? Yes we have them!
Cuban coffee is world-renowned, and a popular gift to bring home for many travelers. Found in different size packs and ground or as roasted beans. Cubans consume a heart-stopping amount of cafecitos (espresso shots loaded with sugar) throughout the day. No respectable household receives a visitor without offering a tiny cup of this dark, delicious concoction. Fruit smoothies, usually with milk, and natural juices, are ever-present in the tropical heat. Creamy papaya and banana smoothies are a delight to enjoy, and possibly the most popular is the mamey smoothie.
And for some great visuals please go to YouTube to see Asori Sotos amazing film on Cuban food .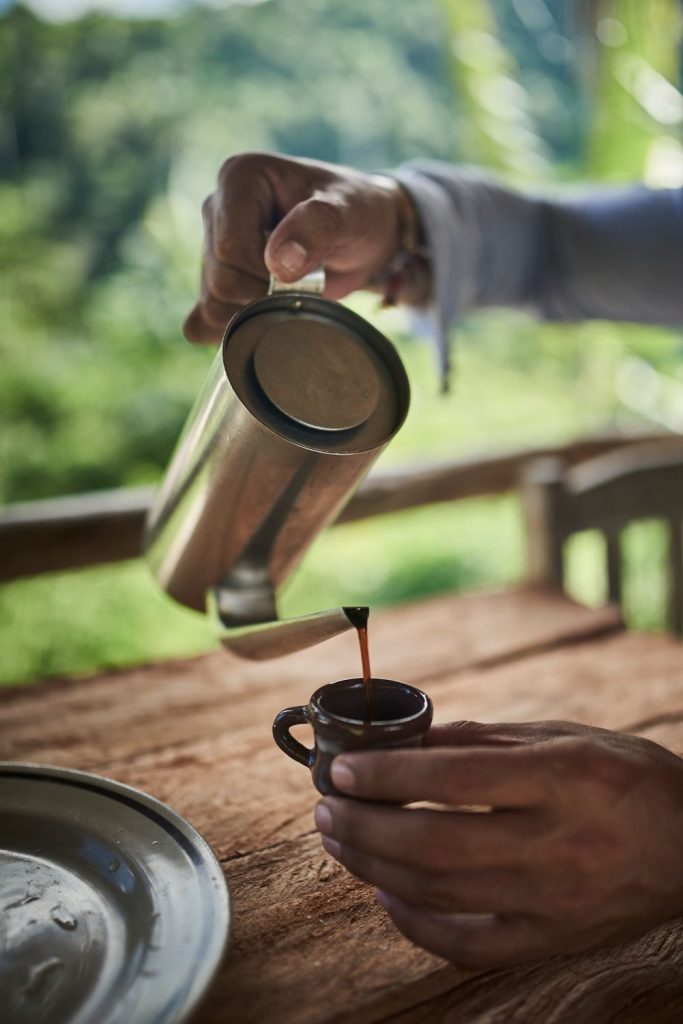 Safe street food experiences in post COVID19 Cuba
Cuba´s active screening, clinical management and safety protocols have been exemplary. The pandemic is now in the low single digits for confirmed cases. Health, hygiene and social distancing protocols are in place. Hotels and all staff working in tourism already knows and applies the industry standards for this new post-COVID19.
However, items like hand sanitizer or disinfectant wipes were never available in Cuban stores even before the COVID19 pandemic. Certainly not after. Do not forget to bring your own supply. The common form of hand sanitizer in every store, restaurant and venue offering public services in Cuba (and compulsory by law) is an aggressive chlorine water-based solution locals call hipoclorito.
Cuba Private Travel offers private street food experiences, and cooking classes, with experienced experts and all industry safety protocols. We make sure the venues and providers use only bottled water, and that you always have bottled water available.
Street food is ever present in Cuba, and with right guidance and knowledgeable on-theground travel expert like us. You will have for sure, a surprisingly great way to have a fun and delicious gastronomic experience in Cuba.